Flats for sale in Islamabad
The most literate city in Pakistan is this well-known one. This may be attributed to the fact that it is home to 16 of Pakistan's top-ranked universities, including the Quaid-e-Azam University, the International Islamic University, and the National University of Sciences and Technology (NUST). People from all across Pakistan have flocked to this city to ensure that their families would be in the safest city in the nation, giving it a distinctive diverse culture. All significant embassies and government institutions, in addition to the top colleges, are situated here. As a result, the city receives frequent visits from individuals around Pakistan.
It is regarded as one of Asia's best-planned and well-kept cities, and it meets all standards for what a capital city should be like. Pakistan's most known metropolitan area is comprised of this metropolis and its neighbor Rawalpindi.
Buying a Flat in Islamabad
It makes sense that the city is regarded as one of the top places for purchasing homes in the nation, given that its economy is solid. There are many bungalows and houses to choose from in lovely neighborhoods, but for those on a tight budget, flats might be a wise option. Though there are numerous choices to consider, purchasing property in Islamabad does need some homework.
In 2018, the Islamabad Expressway became a signal-free section. This new construction greatly increased the value of the land in the nearby home developments. Additionally, after the construction of the New Islamabad International Airport, more visitors, travelers, and investors have expressed interest in the city's real estate sector.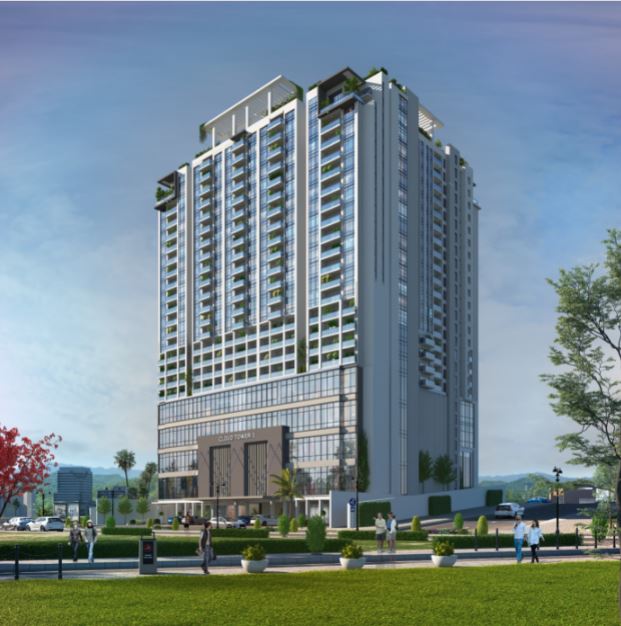 Types of Flats in Islamabad
It is clear enough that the nation is expanding vertically from the quick construction of flat buildings in Karachi, Lahore, and Islamabad to the instant occupation of such buildings. When looking for a place to call home in Islamabad, you will find a wide variety of structures and flats, from mixed-use plazas to studio flats. The following classifications are used to group these flat developments based on their layout and features: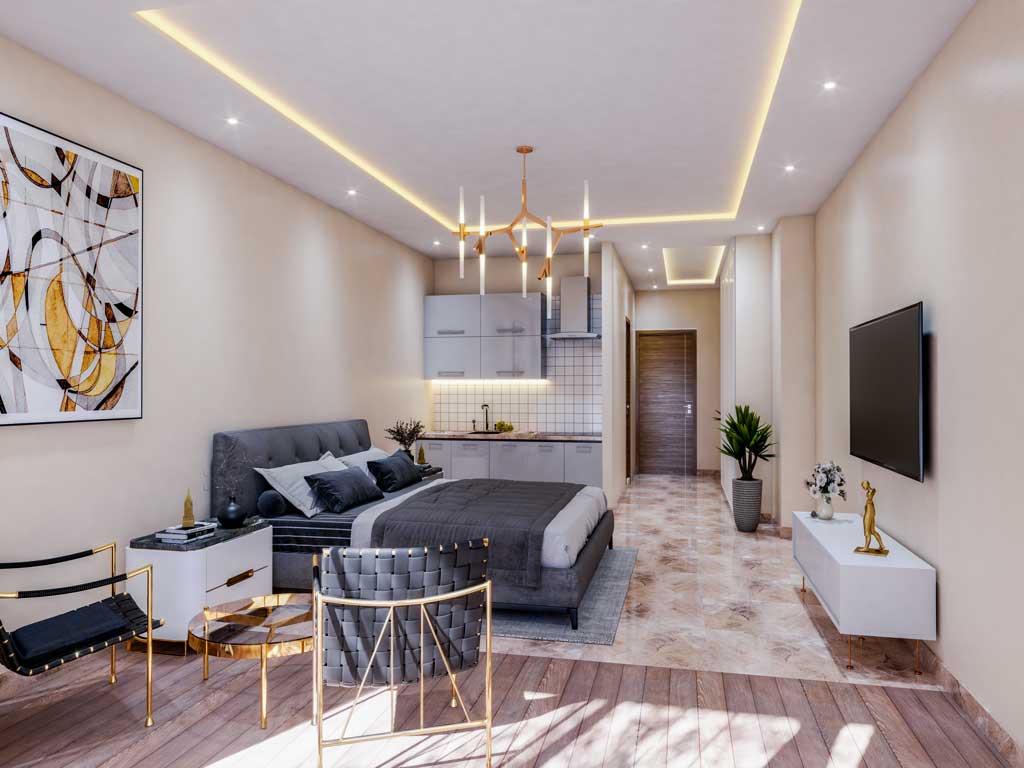 A kitchen, bedroom, living room, and bathroom are all combined into a single, spacious area in a studio flat. The most typical layout for a studio flat combines all the necessities into one large room, although some come with an L-shaped design that creates an alcove and offers some, if not excessive, seclusion. Open floor layouts and fractured ones are additional categories for studio flats in Islamabad.
Similar to the one we first discussed, an open floor plan combines the living, dining, and sleeping areas into one area.
Someone who values a little seclusion may enjoy the broken floor layout better.
The typical size of a studio flat is 500–700 square feet. These sorts of flats are perfect for single persons, but those who need more space may not find them appealing and may choose to choose one-bedroom homes.
One-bedroom flats do not often have open floor designs, unlike studio flats. One-bedroom flats often include distinct areas for each of its rooms: a dedicated bedroom, a living room, a kitchen, and a bathroom.
For single people, couples, or twin sharing, one-bedroom flats are perfect. They are often built such that the most available area is used. However, certain layouts could have a balcony. The typical size of one-bedroom flats in Islamabad is the same as that of studio flats, which can range from 500 to 700 square feet.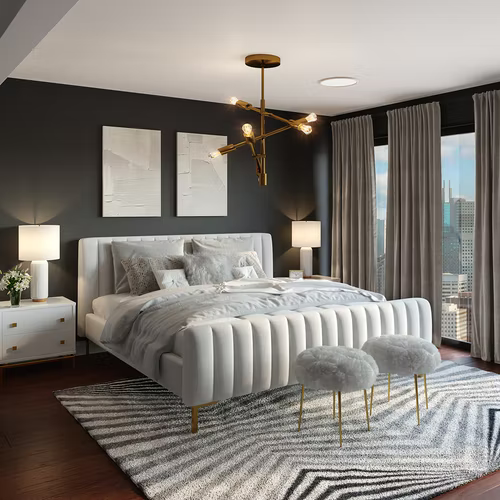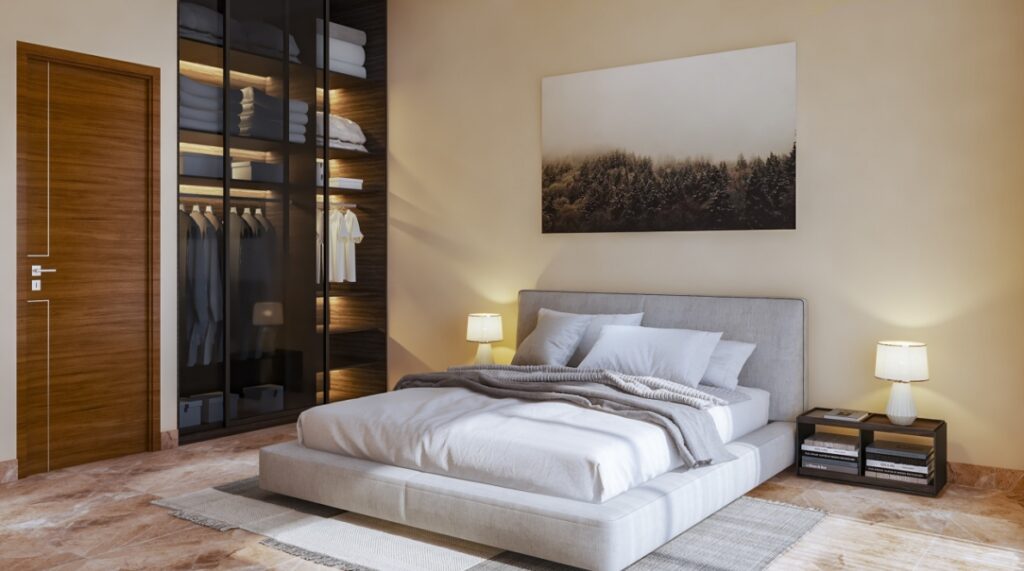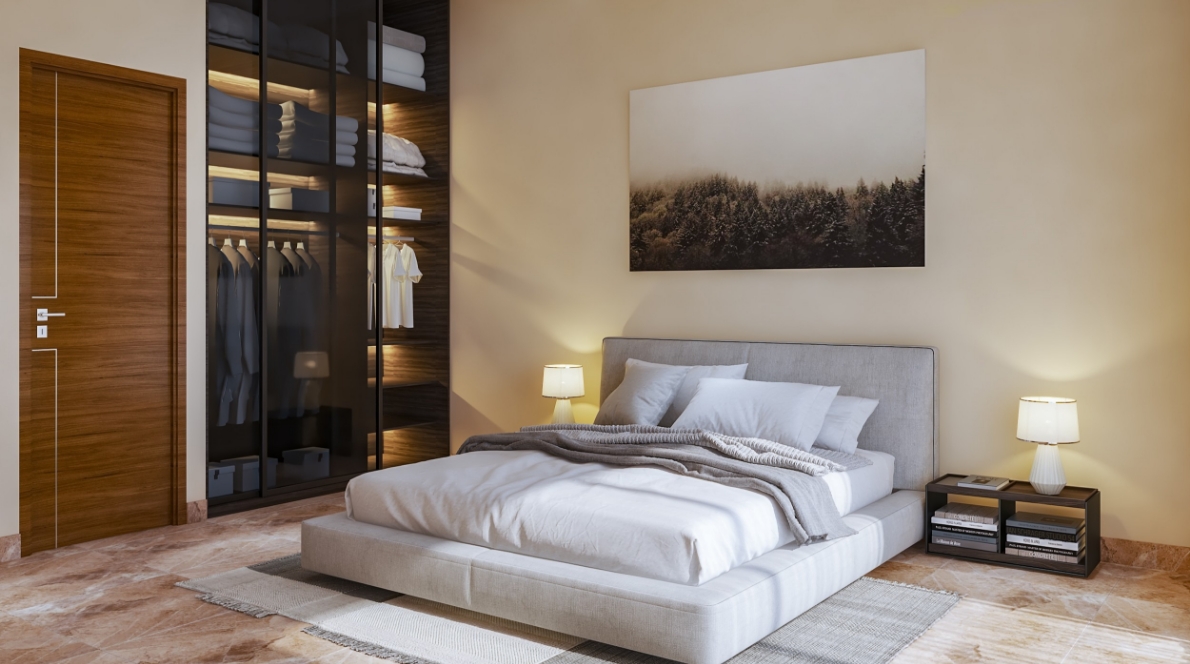 One of the most prevalent and well-liked types of flats in Islamabad is those with two bedrooms. A two-bedroom flat typically has two separate bedrooms, a living room, and a kitchen. The two-bedroom flats in the new, contemporary structures feature connected bathrooms to maximize privacy.
Compared to studios and one-bedroom flats, two-bedroom flats are roomier. Small gatherings, family celebrations, and parties are simple to arrange.
These flats typically have 800 to 1200 square feet of space. Try to get three-bedroom flats if you have a larger family and want more space.
In Islamabad, three-bedroom flats represent the height of luxury. Due to their recent introduction, three-bedroom flats might not even be available in older structures if you go hunting for them.
These flats are very roomy, with three distinct bedrooms, a kitchen area, a living room, and [occasionally] three bathrooms, which are almost certainly adjacent to the bedrooms. The kitchens, however, are far more modern than those found in two- or one-bedroom flats.
There are a few three-bedroom flats that include free-standing kitchen cabinets that add extra storage space and are simple to reach.
These flats typically range in size from 1000 square feet to 1400 square feet.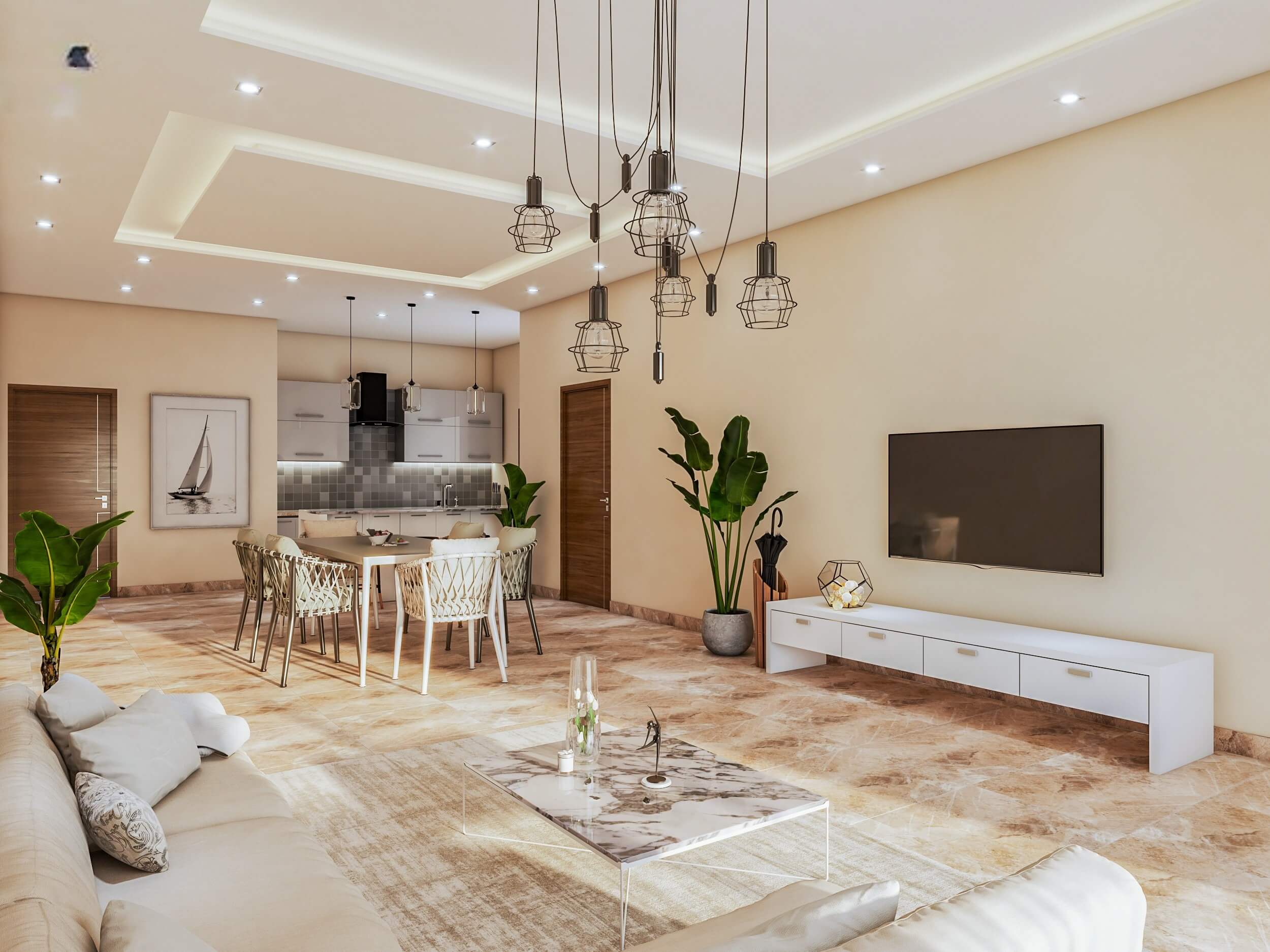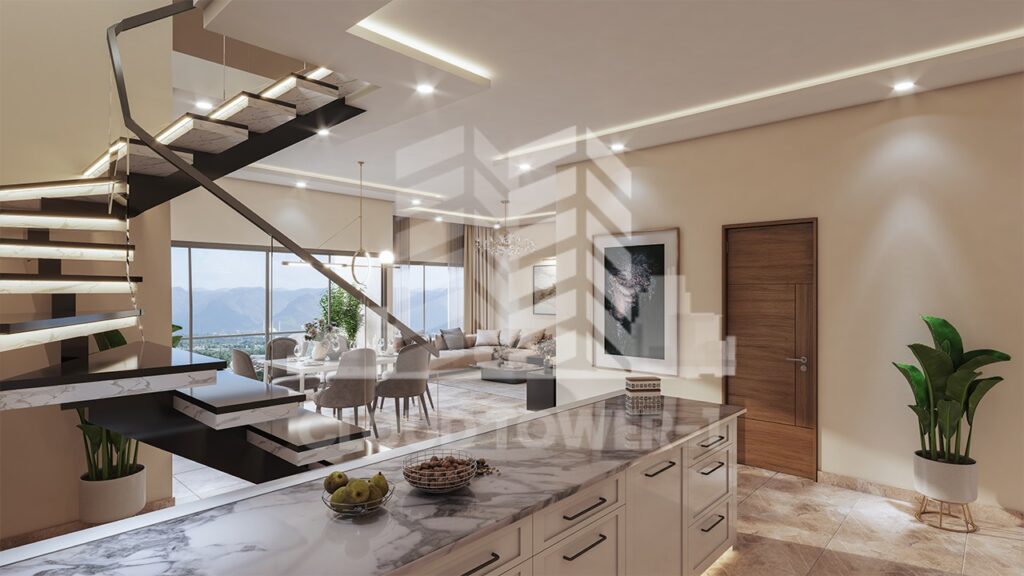 The largest types of flats in Pakistan are four-bedroom flats, which have an average size of between 1200 and 1600 square feet. Four-bedroom flats have a homey appearance because of their roomy layout.
This specific style of the flat has a living room, dining area, separate kitchen, and four separate bedrooms with associated bathrooms. These flats even come with a servant quarter in the majority of their floor plans. Four-bedroom flats contain kitchens that are laid out in accordance with contemporary designs, much like the three-bedroom flats.
Penthouses in Islamabad, premium flats are also categorized as having three or four bedrooms.
Although uncommon, penthouses in Islamabad are unique from all other types of flats. Penthouses are essentially living spaces constructed on a building's roof in the style of flats. There are several penthouses in Karachi that can be found in different residential buildings all around the city.
In Islamabad, penthouses are more expensive than other luxury flats since they have many levels and take up the full terrace. More privacy is provided to residents in this type of flat than in any other type due to the separate floor and big allotment.
For people who wish to feel more at home in their flat, penthouses are a fantastic alternative.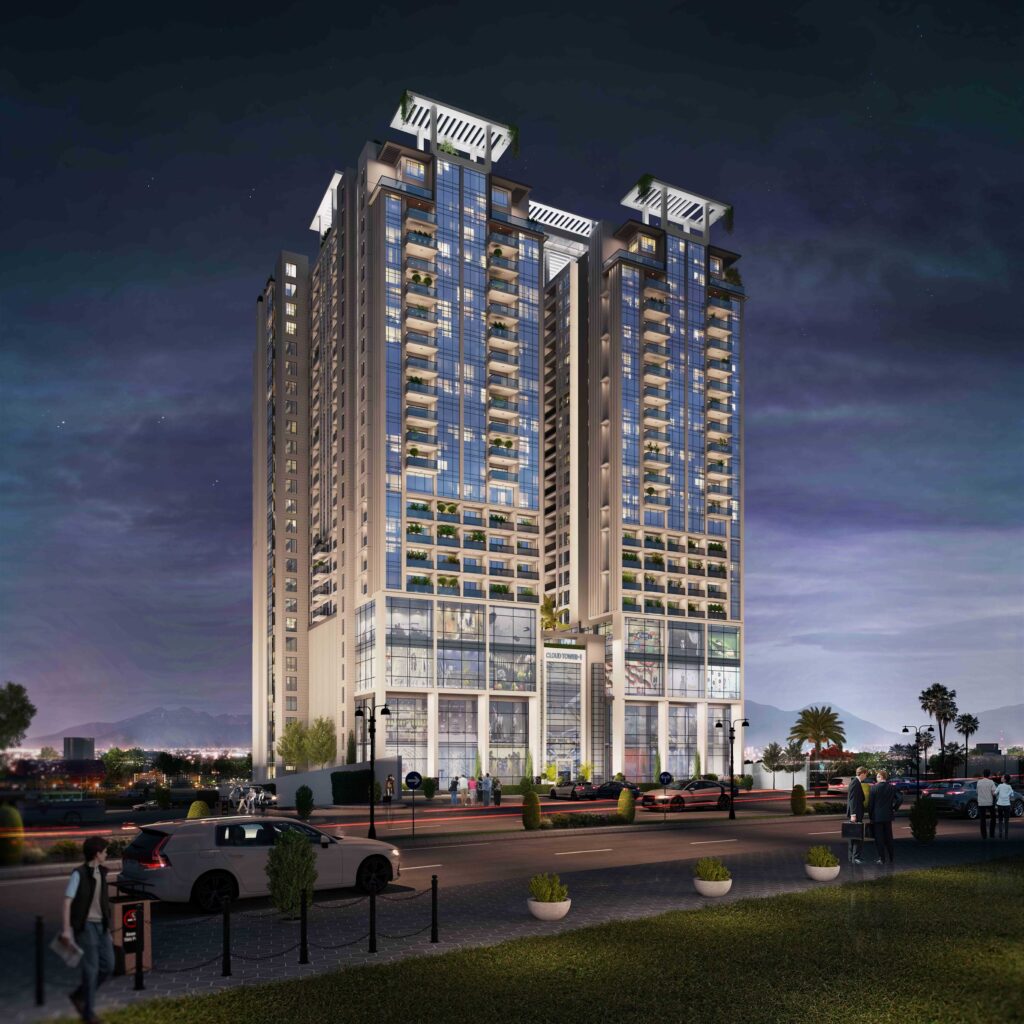 Sale Price Trends For Flats in Islamabad
It is simpler to buy flats in Islamabad, which typically cost between PKR 13 lakh and PKR 5 crore. You could search for flats in areas like G-17, DHA, E-11, B-17, and F-11. The developer's terms for easy payment must also be considered while deciding whether to purchase an flat in Islamabad. Only a 25% down payment and sixteen quarterly payments over the course of four years are required for Ideas Tower, B-17. You must pay the final 10% at the time of possession in order to take possession of the flat.
Visit the cloud tower1 to go through the flats for sale in Islamabad, and let us help you choose the ideal home.
Facilities & Security in Islamabad
The city has a high-level security system because it is the capital, and many government leaders, as well as international authorities, live here. The city's infrastructure is strong for the same reason. The Rawalpindi/Islamabad/Lahore twin cities are linked to Lahore by the Lahore-Islamabad Motorway or M2. Peshawar and Islamabad are connected by the M1 highway, a second highway that spans 155 kilometers. Only 40 minutes separate the city from the well-liked tourist attraction of Murree. Other well-known destinations in the city include the Margalla Hills National Park, Shakarparian, Saidpur Village, the Lok Virsa Museum, and the Pakistan Monument.
Also in Islamabad is the biggest mosque in South Asia, the Faisal Mosque, which was built in 1986. The oldest hiking trail in Islamabad, Trail 3, is perfect for individuals who enjoy adventure and mountain climbing. Starting from F-6 on Margalla Road, it takes 30 minutes to ascend to the ViewPoint. Adults and kids alike enjoy hanging out in Islamabad's Margalla Hills Park, Fatima Jinnah Park, Pir Sohawa, Rose & Jasmine Garden, Japanese Park, and zoo.
About Property in Islamabad
The most popular draw to Islamabad is its breathtaking scenery. People are encouraged to invest in Islamabad because of the city's tranquil atmosphere. Islamabad has exceptionally high costs for homes and flats as a result.
Islamabad real estate offers safe investments and profitable profits. As a result, the property is sought after in Islamabad by investors from all across the nation. Even Pakistanis living abroad desire to invest in Islamabad.
Additionally, there is a big demand for business properties in Islamabad. The majority of Islamabad's real estate developments have the option to combine office and retail space with residences for purchase.
A nicely designed city, Islamabad. The city has designated zones for marketplaces and commerce. Additionally, there is the little hurry in the residential sections of Islamabad. Islamabad is a stylish and tranquil place to live as a result.
Reasons for Investing in Islamabad
A buyer wants to be certain of the safety of the property they are investing in before they put their trust and hard-earned money in it. Along with several other benefits like broad and clean roads, reduced traffic and noise pollution, a thriving economy, job possibilities, and, of course, beautiful beauty, Islamabad provides that safety. Given that it is one of the best-planned towns in the nation, practically all of the homes and flat buildings are also thoroughly thought out, constructed, and placed.
Flats for sale in Islamabad on Installments
Given the comparatively high costs of real estate there, Islamabad's capital city offers a lot of opportunities for investors. Thus, purchasing an flat in Islamabad is a very smart investment for the future, whether a family or a single individual wishes to reside there or to rent it out. Islamabad is a fantastic city with many modern zones, such as E, F, G, and H, as well as a thriving local scene and a large variety of extracurricular activities. Furthermore, the location of the city between the Rawalpindi District and the Margalla Hills National Park is ideal. Flats for sale in Islamabad come in a variety of styles and features, including service flats, family flats, luxury flats, penthouse flats, and studio flats. Ideally situated at Block-G of B-17, Multi-Gardens, Cloud Tower-1 is a 27 level flat building with studio, one, two, and three bedroom flats. It will cover an area of 860,000 square feet, with almost 14,000 square feet set aside for a gym and four levels set apart for parking. These amenities will be provided, and there are relatively few buildings in Islamabad that provide them. Exclusive properties that are only available through cloud tower 1 are also offered by our featured real estate firms. You have the option of configuring alerts to automatically receive the most recent flat listings if, among the listings matching your search, you are unable to find the one that suits you.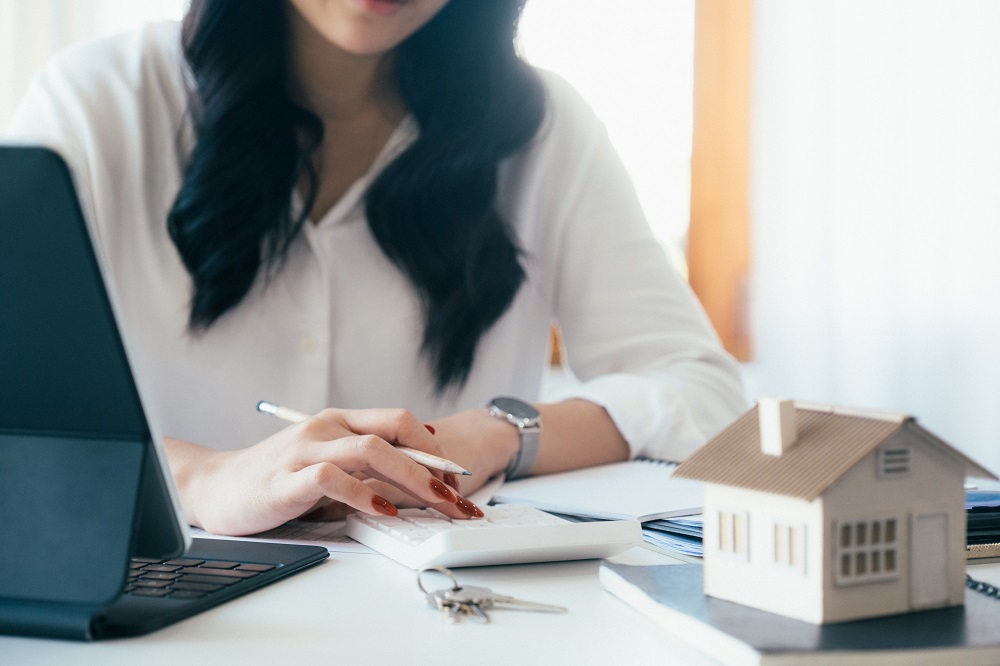 Where can I invest in Islamabad Rawalpindi?
Islamabad and Rawalpindi's real estate markets are highly active in terms of offering returns on investment. In the Twin Cities, people make real estate investments in order to profit from their holdings through rentals.
Why To Invest In A Flats In Islamabad?
A multitude of variables, such as the city's infrastructure, resources, environment, employment prospects, law and order situation, health, education, sports, and recreation, must be considered in order to decide if a city is the most livable city. Islamabad is the best city in the nation on this metric.
Does Flats in Islamabad come with installments?
Yes, The majority of flats in Islamabad offer simple instalment options and convenient down payments. Of course, prices differ depending on the area, the size and number of bedrooms, as well as other factors like the accessibility of utilities.
Is Islamabad safe living in flats?
Flats are obviously a lot safer and more secure alternative for living than any single-family home. Residences take several precautions for tenants' safety and are closely watched by security personnel.
What is price range to buy flats in Islamabad?
The location and number of bedrooms affect the pricing range in Islamabad. Flats in the upscale DHA area start at PKR 21 lakh for a 1-bedroom apartment.