Day Care Centre to facilitate Working Mums
Day Care Centre to facilitate Working Mums
Active mums with toddlers and young kids require a fresh breath of relaxation from time to time in their busy hectic routines. For working parents, it becomes even more important to have a facility that can provide time and necessary efforts to develop and nurture their young ones. On the other hand, kids need some time out from their home to socialize and play, a necessary step towards their physical, social, emotional and mental development. A daycare or play area provides children with opportunities to play and socialize with other kids their age. Being able to work with others teaches them how to share, play and learn well together and become leaders and team players.
However, safety, environment and accessibility are important to take into consideration while choosing a place where you can trust you kids with. What if you get all these combined; a facility with professional trained personnel, secured location with CCTV, amenities that help develop your kids physically and mentally – at an arm's length away… conveniently placed right beside your gym or walking track or socializing area.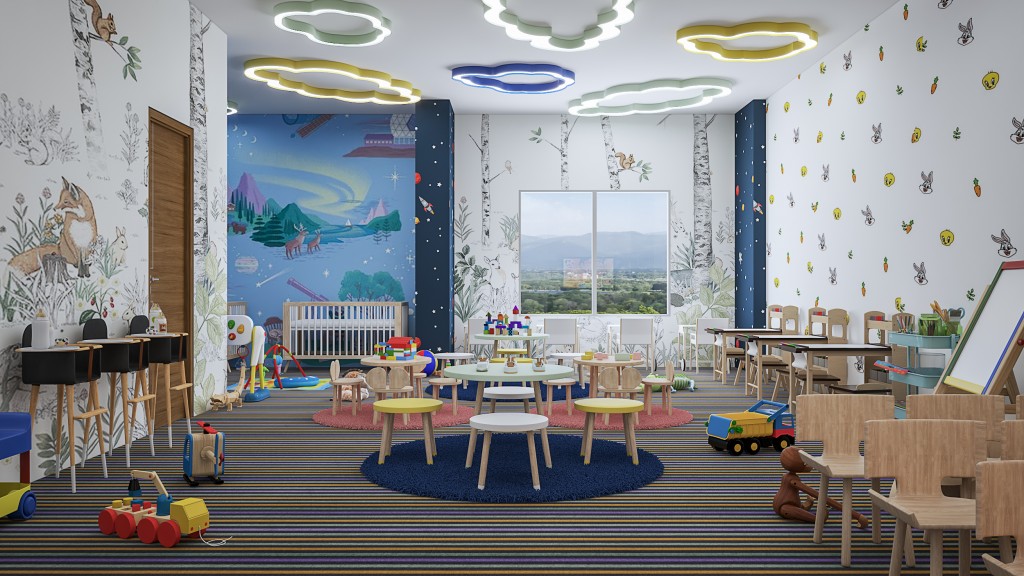 At CloudTower-1, Daycare and Indoor Play area is offered on the same social and recreational level that combines all the great in-house facilities for their inhabitants. The facility is divided into two divisions. One half is for toddlers, while the other is for young kids. Both are self-contained, with their personnel and amenities. There are both outdoor and indoor play areas for children. The indoor facility is well-lit, well ventilated with large glass windows, having a wonderful view of Margalla Hills. There are separated washrooms specific to the daycare center only.
Children can indulge in a variety of activities in the indoor play area, such as those found in KFC and McDonalds, as well as other activities; such as board games, art and handcraft or a literature area based on the interests of different age groups of children. There is a sitting area for parents, as well as a stand selling children's delicacies, coffee or snacks for waiting parents to pass the time.
Strategically placed right next to the Lady's gym and walking track, an ideal location for moms. Parents will also be able to keep an eye on their children remotely because of trained personnel and security cameras, accessible through telephone at any time. Working mothers can also leave their children for the entire day and pick them up after they are done with their work.