Cloud Residences Location
Cloud Residences Location Explained
The Cloud Services are known for bringing innovation in the construction industry in Pakistan. Their expertise include property development with managed services, energy efficiency, unique designs, privacy and security, permanent residence, after sales services and many more.
After successfully delivering various residential and commercial projects in the capital city, Islamabad, now we are moving towards a location unbeatable! Adjacent to Sirinagar Highway and at drive of just 5 minutes from Islamabad International Airport, MUMTAZ CITY! A location worth investing in. This beautifully engineered society is a hub of hotel and commercial outlets setting international standards of quality living. Motorways M1, M2 and CPEC toll plaza lies right on the door-step. Zero point and Blue area Islamabad and Saddar Rawalpindi are at few minutes drive from this iconic project.
CLOUD RESIDENCES! A project of highest standards and living community. It is designed on a 3 sided corner plot, bordering with a lush green family park, having School, Masjid and Clinic just across the road. Surrounded by flora of Islamabad and lush serene of Margalla Hills, this Project offers permanent residence with a secure lifestyle and all the basic yet modern facilities within, including Parking, GYM, Community Hall and much more.
B-17 is Ideally Located at the Junction of Margalla Road, Rawalpindi Ring Road,
Motorway and G-T Road 
B-17 is in the middle to Margalla Hills and connected to the Margalla Avenue Islamabad.
Ideally located at the junction of Margalla road, Rawalpindi Ring Road, Motorway and G-T Road 
B-17 is Islamabad's closest sector to China-Pak Economic Corridor (CPEC).
Mosques and Schools are readily available throughout in B-17.
B-17 Club has Swimming pools, various Sports courts, Restaurant and rooms under construction.
Football Ground, Jogging tracks and Children parks are extensively planned in B-17.
A secure and gated community under the surveillance of CCTV cameras and Patrolling security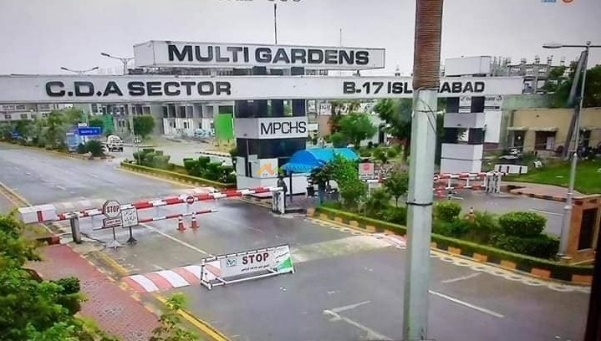 Pictures of b-17 Multi Gardens