14,000sq.ft. GYM, separate for Ladies & Gents
Modern apartment buildings in Pakistan, particularly those in the upscale or luxury category, tend to provide a wide range of amenities. Cloud Tower-1 is no exception to this trend. If you're looking for a new apartment, you've probably noticed that each building has a unique set of amenities. As such, it can be difficult to know which ones you'll actually end up using while others go unutilized.
One amenity that may benefit you more than you realize and has the greatest appeal is a fitness centre. A healthy living experience goes a long way in persuading potential homeowners of investing in any residential complex. Renters are also drawn to the promise of a wellness-inspired lifestyle. There are plenty of benefits that come with having a gym in the apartment complex you live in.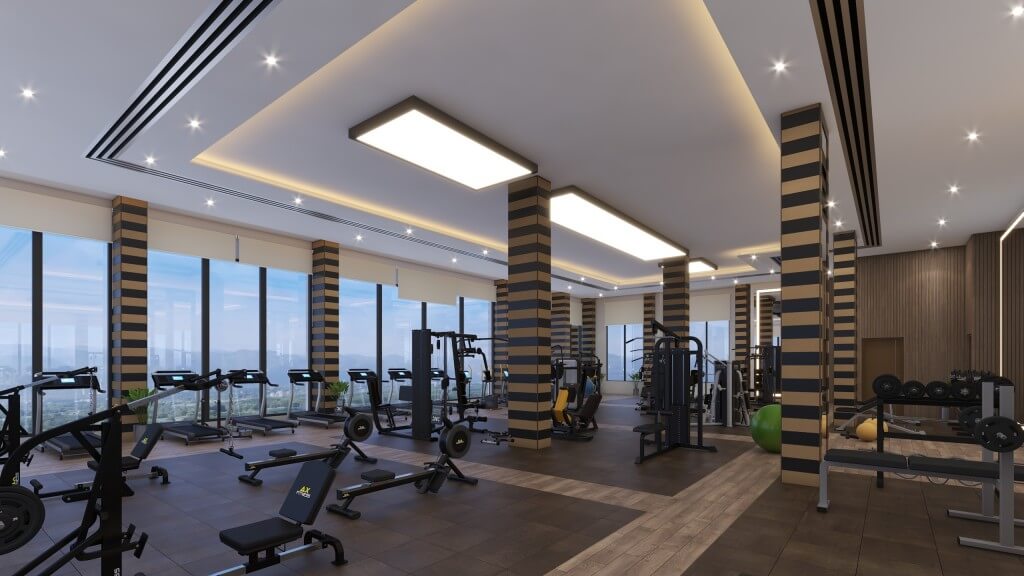 Makes you part of the community
Common wellness facilities contribute to a stronger sense of community and gathering. With a gym in your apartment building, you know you're working out with people who live in the same building as you, so you might be able to make some new friends there. This could lead to stronger relationships as well as accountability partners who will motivate you and hold you accountable for showing up to your workout sessions.
Saves you money
If you live in an apartment complex without a gym, you're probably paying a monthly membership fee at the gym somewhere else. When your apartment complex has a gym, you can stop budgeting for a monthly gym membership fee. Your gym fees will be included in your rent or the amenities fees you pay for access to other building amenities.
Ease of access
A monthly gym membership usually involves more than just extra costs. It means another trip out of the house – and the costs and time involved in travelling. You'll never have to worry about access again if your apartment building has a gym. You'll pay no extra money to travel the gym, and you can go whenever it's convenient for you. If you struggle with motivation, this ease of access may be beneficial.
Cloud Tower-1 fitness facility
Cloud Tower-1 is offering a gym on half of the skyscraper's third floor. This 14000 sq. ft. facility splits into two gyms on the right and left sides of the park. Each gym is located on separate sides of the building and is dedicated for the use of ladies and gents respectively providing complete privacy.
For the convenience of residents, the main gym is divided into three sections:
The first area consists of all of the standard workout equipment found in any world-class gym, such as treadmills, elliptical cross trainers and upright bikes.
In the centre area of the gym, there are free weight tools for workout.
The end area of the gym is dedicated to all the bodybuilding machines.
Both gyms also have a dedicated room that can be used for multiple activities and classes like martial arts for men and yoga and aerobics.
Final words
These days, a fitness centre and space for physical well-being are an essential part of good residential projects. People consider the presence of these amenities to be necessary inclusions in housing complexes, and they rank high on their list of demands. Homeowners and even renters consider wellness to be an important aspect of life, which includes physical, social, and emotional well-being. Cloud Tower-1 has placed a lot of importance on this factor and has provisioned for a state of the art gym and wellness area aiming to offer a well-rounded experience.
Come invest your future with us. Contact us on our UAN (+92 348 111 5505), more information can be found on our website for Cloud Tower-1 www.cloudtower1.com.pk and for Cloud Villas at www.cloudvillas.com.pk and our agent will walk you through the process smoothly.